We promoted suppositories against Candidiasis or yeast infection. The client is one of the market leaders. This market is highly competitive. At the moment of the ad campaign launch, there were two main competitors. They held active communications in digital and on TV. Our client was launching a new pharmaceutical form of the product.
Campaign goals and channels choosing

The aim of the ad campaign was to create awareness among the target audience, increasing sales of packaged products and increasing of sales share in the category. Digital as a channel was chosen as it covers 93% of the target audience.

The main profile of the target audience — women ages 18-45. Having analyzed consumer & buyer profiles, it was identified that the audience ages up to 25 are consumers, but not buyers of the product. Given the aims of communications to raise sales, we recommended narrowing the core of the target audience to ages 25-45. These segments were the major buyers in the category. We also recommended dividing communications by age groups: 25-34 and 35-45. These segments have separate interests in the digital environment.
While analyzing competitors, we discovered that they have a major part of OLV communications. Hence, we should use eye-catching communication formats.

During analysis of competitors' seasonality of communications, we discovered that the second half of summer was free. This created additional opportunities for switching attention from competitors. More than 2/3 of search queries, related to medical topics, come from mobile devices (Google Ukraine data), and mobile device usage is prevalent among our TA (more than 94%). That's why we recommended using mobile formats to communicate with the TA. 
Formats and campaign stages


We launched 5 creatives (video ads 20 sec and 6 sec long), which were appropriate for the interests of different age groups and consumption patterns. The digital ad campaign lasted from June to September. The work with generated demand lasted till the end of the year. 
In Awareness & Acquisition stages we selected a split of video and banner formats in DV360, Facebook Ads and MixDigital.TradeDesk. To work with generated demand, search campaign was launched in Google Ads.
Campaign period and targeting

Active media support lasted 4 months. For the first 2 months, the major reach was achieved using video ads In-stream on YouTube for generating awareness by watching video ads in full, and videos in Facebook Ads – for broadening reach and engaging users, who couldn't be reached on YouTube. For Facebook, we used 6 sec videos which had to include subtitles and brand's logo during the first 3 seconds, since the Facebook audience rarely watches videos till the end (unlike on YouTube) and, according to Nielsen & Facebook study ~47% of results a video ad campaign attains in the first 3 seconds.
Starting from the 3rd month, the In-stream format has been replaced by Bumper Ads to consolidate awareness at a cheaper cost of TA reach.
Also, in order to complete building awareness with cheaper CPR, we used banner advertising for 4 months in DV360 and conspicuous formats such as Multipannel, Halfscreen and In-App Banner in MixDigital.TradeDesk.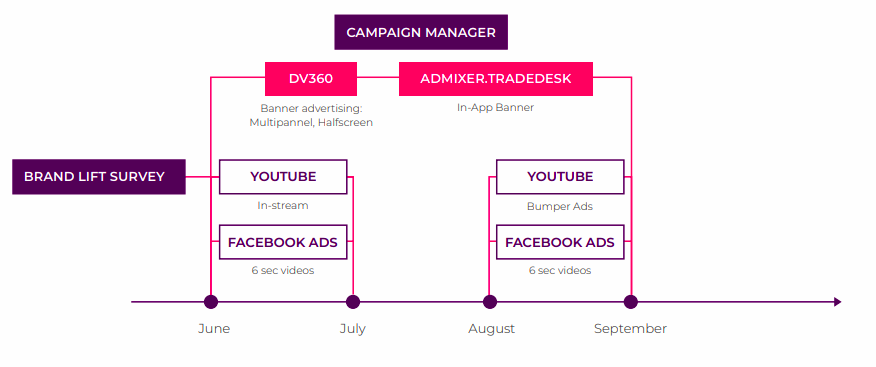 Search campaign in Google Ads aimed at generating demand and were lasting for 7 months, which was growing due to media activity. During this period, remarketing was activated in MixDigital.TradeDesk with the Multipannel format.
Targeting for media activity was selected based on a portrait of the target audience and the split depending on creatives. Ads were targeted by gender, age, interests, website categories and placed on direct platforms with high target audience concentration. 
We used Campaign Manager to control if we hit the target audience, the quality of impressions, and analysis of overall frequency and audience overlap. Also tracked the effectiveness of the campaign on PostClick, PostView, and Cross-Device for achieving target actions on the website: clicking on "price" and "map of pharmacies". This allowed us to assess the impact of media advertising better and adjust placements to reach a more relevant audience.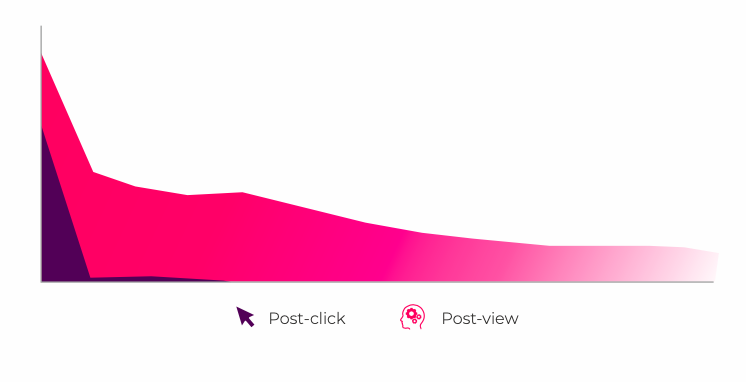 Brand Lift Survey allowed us to assess the ad campaign's impact on brand recall growth depending on creatives in the context of target audience segments.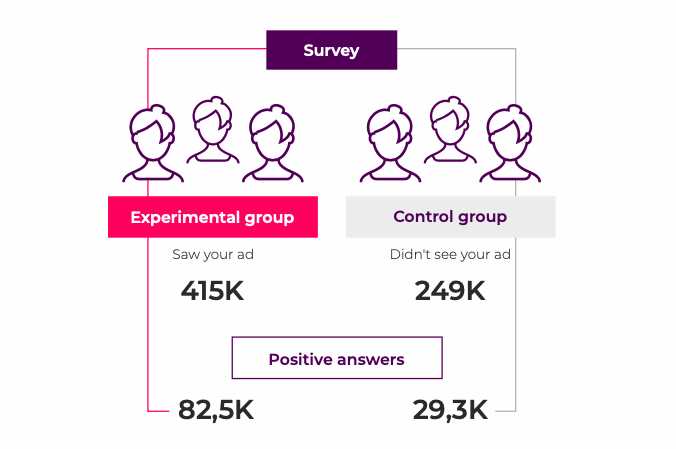 Ad campaign results
During the period of the ad campaign, we managed to achieve:
An increase in the share of sales in packages by more than 2 times from 8% to 15%.

Growth in the number of sales of packaged products by 40%.

55 million ad impressions.

93% reach of target audience at a frequency of 7.3.

An increase in ad recall according to the results of the Brand Lift Survey among the reached audience was 96% in relation to the control group.